Contact Oxford Private Care
Telephone
Please call the number for the service you are enquiring about:
Care at Home
01865 861944
Live-in Care
01865 861944
Home & Garden
01865 861220
Hair & Beauty
01865 861239
Foot Healthcare
01865 861229
Email
Please use the form to send us an email:
Post
Our main office address is: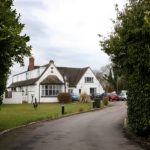 Oxford Private Care
Shrublands
Faringdon Road
Cumnor
Oxford
OX2 9QY
Tel: 01865 861944
Fax: 01865 861945
Email: info@oxfordprivatecare.co.uk
Office hours: 9am – 5pm, Mon – Fri (backed up by a 24 hour emergency helpline)
OPC on Facebook
You can now find Oxford Private Care on Facebook.
OPC on Twitter
Follow us on Twitter @OxPrivateCare
Working for us
If you would like to enquire about working for us, please use the form on our job vacancies page.
How to Find us
By car: The Oxford Private Care offices are located on the same site as Shrublands Residential home. Shrublands is located on the A420 (Faringdon Road) between Cumnor and Besselsleigh. From Oxford once the A420 goes into single lane, it is approximately 400 metres on the right, just before the Rockley/Cumnor sign. Shrublands is the last of the three houses.  From Swindon, it is the third house after the Hartwell Land Rover garage. The entrance to Shrublands is directly opposite to a field with a large electricity pylon.
Buses: There are buses from Oxford to Cumnor (4a or 4b) which take you into Cumnor village. Then it would be about 15 minutes walk to Shrublands down the A420. Alternatively there is a Faringdon/Swindon bus (66) which stops at Besseleigh near the Greyhound pub. You would then need to walk back towards Oxford for approximately 10 minutes.
Trains: The nearest train station is Oxford.  It would be approximately 20 minutes in a taxi from the train station.
Open map in a new window